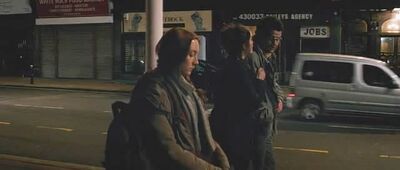 Citroën Berlingo
is a vehicle seen in the
film
.
The Citroën Berlingo and Peugeot Partner are almost identical panel van and leisure activity vehicles produced by the PSA Peugeot Citroën alliance since 1996. They were based on the Citroën ZX/Peugeot 306 estate floorpan and mechanicals. With their rectangular, box like cargo space and aerodynamic front, conceptually they can be considered the descendants of the Citroën 2CV van (AK400).
Both the Berlingo and Partner have been produced in CNG and electric versions, all with four-cylinder engines.
The panel vans are the Berlingo and Partner, while the leisure activity vehicles are known as the Berlingo Multispace and Partner Combi. In Italy the Partner is known as the Peugeot Ranch.
A revised version featuring a redesigned interior and front end was released in November 2002 (Berlingo I / Partner I).