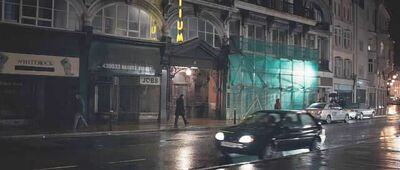 2000 Ford Fiesta
is a vehicle seen in the
film
.
The Ford Fiesta is a supermini car manufactured by the Ford Motor Company since 1976, now in its sixth generation. The Fiesta has been manufactured in Europe, the USA, Brazil, Argentina, Mexico, Venezuela, China, India, Taiwan, Thailand, and South Africa.
In 2010, the sixth generation Fiesta (Mark VI) was introduced worldwide, making it the first Fiesta model to be sold in North America since the Fiesta Mark I was discontinued at the end of 1980. The Fiesta has sold over 16 million units since 1976, making it the third best selling Ford marque behind the Escort and the F-series.
Fifth Generation (1999-2004)
Edit
In 1999, the Fiesta received a minor facelift aimed at giving the car a New Edge look, with a Focus-inspired face, new bumpers and wheel designs. Facelift known as Mark V in United Kingdom and elsewhere.
Other changes include 1.6i 16V Zetec engine, fitted to the new Zetec S model, and later available in Ghia and Freestyle trims. New features such as side airbags and (after launch) the reintroduction of leather trim. An environmentally friendly E-Diesel model for 2001, with CO2 emissions of 120 g/km. The Lynx 1.8 TDDi engine (also introduced after launch).