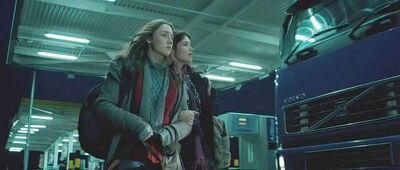 Volvo FH is a vehicle seen in Byzantium.
The Volvo FH is a heavy truck range produced by Swedish Volvo Truck Corporation. Introduced in late 1993 as FH12 and FH16, production still continues with the now the second generation of FH range model lineup. FH stands for Front High cab where numbers denominate engine capacity in litres. The FH range is one of the most successful truck series ever having sold more than 400,000 units worldwide.
In September, 2012, Volvo Trucks re-launched the Volvo FH with significant technology upgrades.
Version 98 (1998–2002)Edit
In conjunction with introduction of FM series in 1998 Volvo had facelifted existing FH series with minor modifications to the cab but major upgrade to the electrical system, engine and gearbox. The so-called TEA Truck Electronic Architecture introduced a technical solution to possibility of various electronic control units to work and communicate with one another. The systems have been linked using two data buses or data links which allowed control units to exchange relevant information over the data network.